Tweet

Okay so you can totally ignore this if you want to. After uploading crap loads of pictures from High School I was like, "Wow I used to be skinny! And look how great my skin was! And holy crap my eyes were bright and I was always smiling!" So I got bored and decided to do a science project. A self examination if you will over the last ten years, trying to just figure out key factors as to where things tended to go wrong.
You can come back tomorrow for more comics, or you can check out how I did this and maybe do it for yourself, or you can gawk at old hottie pics of me from when I was like 15
(you perverts)
.

When enlarged, this chart shows my picture and the year it was taken, as well as my then weight and health problems that rose during that particular year. I wanted a big long chart so I could quickly look at the progression in regards to my appearance. But it's broken down below. Warning, some of the health issues may be TMI.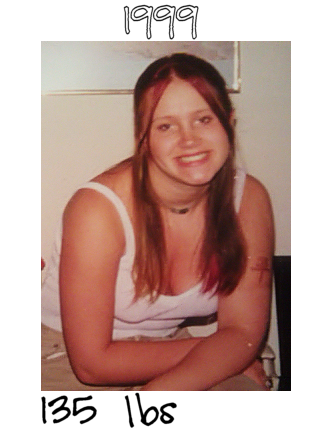 Age
: 15/16
Health Issues
:
I was fairly healthy in 1999. 1998 was my first year in High School and it was pretty normal for a typical teenager, even the drama. I had recovered from the death of my aunt Kathy a few years earlier and in 1997 I had lived with my cousin Mitzi who helped me get my crap together. I was an A student, had many close friends and good relationships prior to 1999. I also exercised here and there. I walked a lot and was very active with my friends
(dancing, playing around, etc)
. However, I was later in the year diagnosed with depression and put on Zoloft (which caused insomnia and actually made the depression worse), I was later put on a sleeping pill to help with the insomnia. I stopped taking the pills after a few months due to the side effects.
Possible Triggers
: In 1999 I was still considered the "fat" girl in High School. Looking back now it makes me laugh. What I would kill to look and feel like this picture again. The depression I know was caused by the death of my Grandmother in November.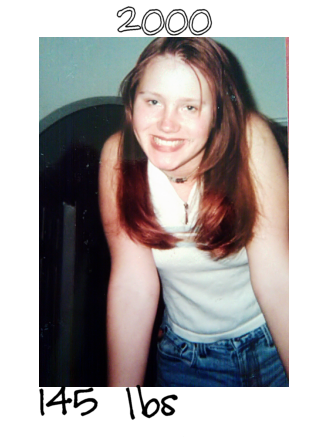 Age
: 16
Weight Gain
: 10 Pounds
Health Issues
: While I sort of got through most of my depression and was taken off the medication, I was immediately put on birth control
(depo provera)
which caused almost instant cycle irregularity, pain, and clotting. I remained on the depo for one full cycle
(3 months)
and was taken off
(cause I wasn't having sex LOL)
. The one shot of depo was enough to screw my cycles
(they still have not regulated.)
Hormone issues became a factor because of this, causing the depression to resurface and weight gain.
Possible Triggers
: In 2000 I joined the Church, and almost instantly lost a friend to a drunk driving accident. This year I also lost half of my friends due to my change in lifestyle regarding my new religion.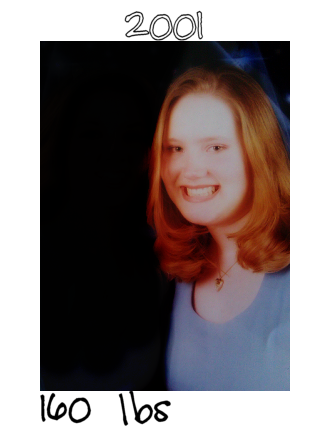 Age
: 17
Weight Gain
: 15 Pounds
Health Issues
: Hip problems (originally caused by a car accident from 15 years earlier) began to surface. Stress levels increased and depression came back as I began caring less about my appearance.
Possible Triggers
: I dropped out of High School this year and decided to home school and I graduated later this same year. Instead of school I went to work full time in restaurants, giving me access to very fattening foods. I also got a car this year, no longer forcing me to walk everywhere. I stopped all physical activities. This year Matt and I broke up and I fell in with new friends and relationships that were emotionally damaging.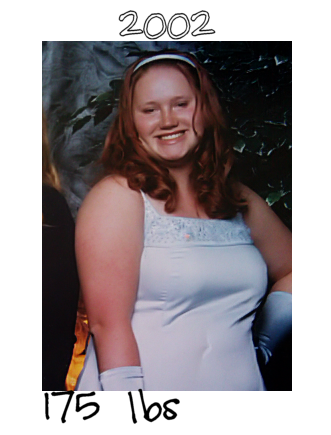 Age
: 18
Weight Gain
: 15 Pounds
Health Issues
: Acne became a strong issue this year. Depression got very bad and I even started having panic attacks
(though I didn't know what they were.)
Possible Triggers
: This year I quit my job and was kicked out of my house. I moved into an apartment (after ending two terrible relationships). I stopped going to Church this year as well. At the end of 2002 I started going back to Church and packed up and moved back home to Utah in order to cleanse my life.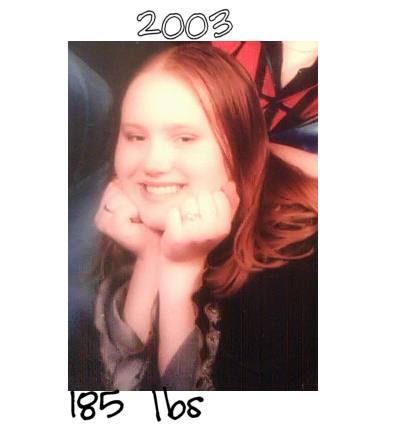 Age
: 18/19
Weight Gain
: 10 Pounds
Health Issues
: Developed Rosacea. Back problems increase
(because of the car accident)
I also threw my back out really bad this year and pulled some muscles in my lower back. Had to go to therapy for it. I was diagnosed again this year with depression, but I refused to take the medicine because of what happened last time.
Possible Triggers
: After moving to Utah I got a job where I worked very long hours standing on my feet. This year brought good news though when Matt and I got back together and engaged!
Age
: 19/20
Weight Gain
: 10 Pounds
Health Issues
: Took birth control the first month of marriage (which nearly caused a divorce among other health problems) stress, hormone imbalances, stress, panic attacks worsen. Also first notice fertility issues.
Possible Triggers
: Lost my job in April and aside from a few jobs here and there I was a housewife. Walked everywhere as we did not have a car, but we also ate out ALL THE TIME and very poorly. Moved back to New Mexico at the end of the year.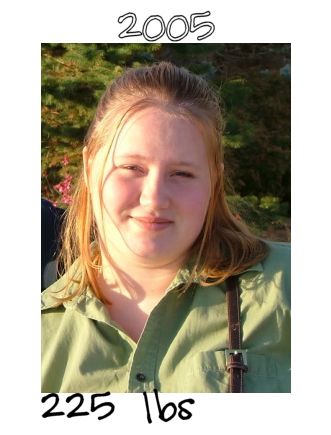 Age
: 20/21
Weight Gain
: 30 Pounds
Health Issues
: Due to stress and anxiety, developed OCD (which had been dormant for many years). Due to increased weight gain, developed an enlarged liver.
Possible Triggers
: Moved back to New Mexico and stopped going to Church. Took up smoking and did not exercise at all. Sleep patterns were disturbed as Matt worked graveyard shifts and I was still a housewife. Had some damage done to friendships and due to increased debt, had to move back in with Matt's parents.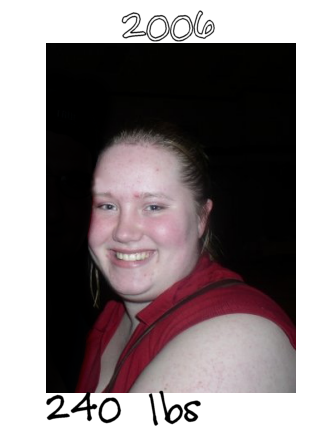 Age
: 22
Weight Gain
: 15 Pounds
Health Issues
: In addition to stress, anxiety and other emotional issues, eye sight grew worse.
Possible Triggers
: Began college, increased smoking habits, stress levels were extremely high revolving around debt and lack of Church. Moved out, and then was kicked out of our apartment forcing us to move back in with Matt's parents (again).
Age
: 23
Weight Gain
: 20 Pounds
Health Issues
: Asthma developed, also had problems with gallbladder.
Possible Triggers
: Still remained with Matt's parents. Began working from home as well as going to school full time. No social life whatsoever.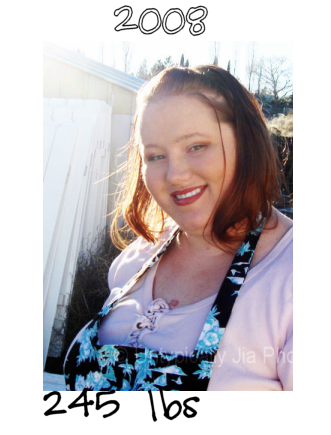 Age
: 24
Weight Loss
: 15 Pounds
Health Issues
: Thanks to weight loss, stopped having problems with gallbladder and liver. However, knee and joint pain increased dramatically. Panic attacks become a daily occurrence.
Possible Triggers
: Quit smoking, went back to Church. Graduated college and continued to work from home.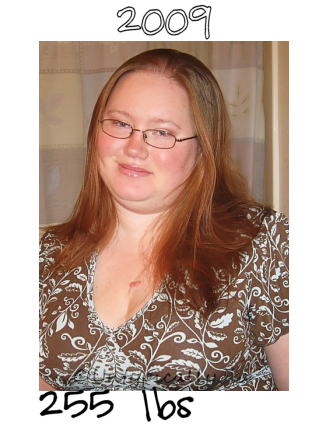 Age
: 25
Weight Gain
: 10 Pounds
Health Issues
: OCD takes over a good percentage of life. Hair loss becomes noticeable. Fatigue becomes quiet overpowering. Joint pain continues, leading to multiple injuries. Depression returns. Asthma causes seasonal sickness that lasts months.
Possible Triggers
: Moved out of the house, got further in debt. Matt lost his job. Started working again out of the house (in addition to at home). Lost at home job.
So that's it. I haven't figured it all out yet. Mostly because I'm shocked at the physical difference. Seriously. I look so bright and energetic before and slowly you can see the fatigue growing in my eyes in these pictures. One thing I have noticed is that anxiety sets in despite happiness. During the worst years of my life, I had very few panic attacks and emotional issues, but the years when I have been most happy or secure, is when my OCD and panic attacks seemed to really take hold of me.
Hopefully now that I can see for myself, I can try to reverse some of the things I've done to my body. Ten to fifteen pounds a year doesn't really seem like that much until you add it up. Over 100 pounds gained in ten years. Hopefully it won't take that long to get rid of it.